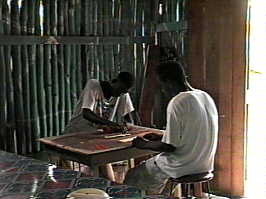 Back Ah Yawd!

14th, August 1996

Today we have another installment of our slice of daily Jamaican life, Back Ah Yawd! If you have not yet taken a look, click on! It's fun mon! Trust me!
Things have been heating up in Negril since Sumfest ended. Yesterday we ran a late afternoon Special Edition, click to check it out. The next month promises to be filled with great reggae performances, priming the place to our October Dance Agan Festival - nore news!

At 7:17 am, cloudy morning, looks like we might get rain. Temperature is 78° F., 26° C.