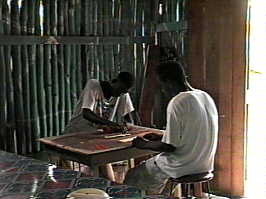 Jason: Bwoy, afta ah storm their must be ah calm.

Calvin: Ah wah yuh ah chat bout now.

Jason: Mi ah goh ah Sunsplash and Sumfest ah next year.

Calvin: Mi goh ah few night and ey did hot. Ah four night mi teck di journey mon to Sumfest in Mobay!

Jason: Bwoy, di night dem di rough but mi survive di party mon!

Click for the previous Back Ah Yawd, or click for the next one.