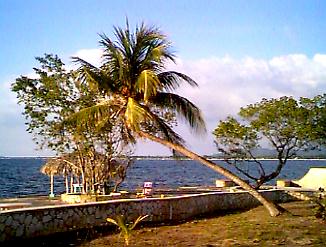 Contest Day!
May 14th, 1998
It has been a while since our last contest, so today we thought we'd have another one! The first person to correctly email where this picture was taken gets a free beverage at the next Internet Pub Crawl you attend, either the Internet Pub Crawl 2 on Tuesday at Travellers or the Thirsty Thursday Pub Crawl at Jamaican Price! Speaking of Thirsty Thursday, join us tonight (Thursday) on the NEN (Negril Entertainment Network) starting around 7:00pm JA time. For more information, look for the posting on the Negril Message Board sometime late Thursday afternoon. Look for it then mon! Back Ah Yawd is continuing today - be sure to check it out (by clicking above or below on Back Ah Yawd)!
At 8:32am - feels like it might be a hot one. The temperature is 84° F, 29° C.
Click here for Translation






© Copyright 1998. Beingee's. All Rights Reserved.