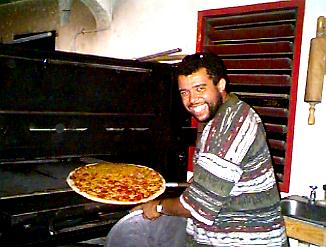 Mr.Slice Pizza
April 14th, 1998
When Eagles arrived in Negril on Moday evening at the R Bar in Negril, we couldn't let the party stop! We sat around for a few minutes and the decided to go on a mini-Pub Crawl down the road to the new Mr.Slice Pizzeria for some of his world famous pie! Mr. Slice let us get on-line live on the NEN from his shop - thanks mon! Mr. Slice is shown taking one of his fabulous hot pizza fresh his pizza oven. When in Negril and the craving strikes - look no further than Mr.Slice - delivery is available! We will be on the road Tuesday and Wednesday in Kingston, look for an update for town! Back Ah Yawd is on break today, but you can check out the last installment by clicking here or on Back Ah Yawd above or below!
At 7:41am, The pizza was great! The temperature is 77°, 25° C.
Click here for Translation






© Copyright 1998. Beingee's. All Rights Reserved.