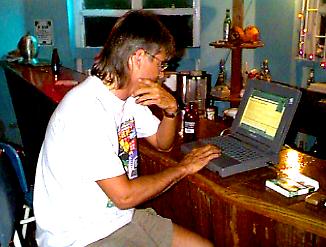 The Eagle Has Landed
April 13th, 1998
For those of you have been visiting the Negril Message Board, you may have become familiar with some of the messages left by the person who uses the name Eagles. Well, Houston, the Eagle has landed! On Monday evening the Pirate and I were joined at Tenby's Tigress 3 - R Bar by Eagles, as shown here chatting it up in the Negril Chat Room. This was his first visit with us and we hope for many more! Thanks mon for showing up - it was great meeting you! Back Ah Yawd is on break today, but you can check out the last installment by clicking here or on Back Ah Yawd above or below!
At 7:30am, The Eagle flown the coop! The temperature is 77°, 25° C.
Click here for Translation






© Copyright 1998. Beingee's. All Rights Reserved.