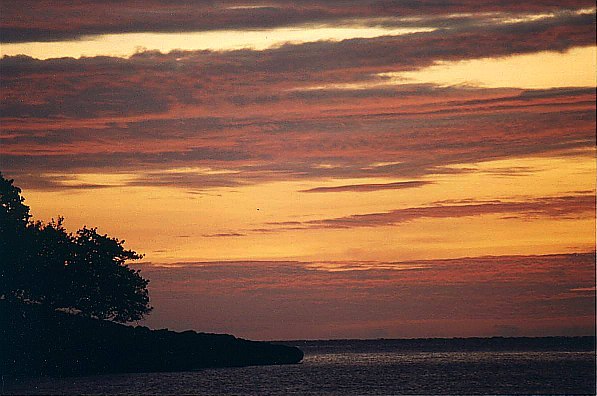 Sunset of the Week!
September 10th-13th, 2000
Once again as the moon turns full, we have prepared another Sunset of the Week for you to enjoy! Paula in Colorado, USA emailed this beautiful picture to us as this week's entry. Thank you Paula! Take a moment to gaze at the majesty of the sky, the cloud formations and color shifts. Reflect on what is important in your life. Your life is made up of a string of fleeting moments, intertwined making us the person that we are today and tomorrow. But just as the sun sets each day in Negril, there is always another tomorrow - a chance to take those precious moments of life and use them to their fullest. Be helpful to others, be kind and compassionate, for although there will always be another tomorrow, our time in this magical world is a short one. Reflections on a beautiful sunset.
Daily Music News: The Negril Entertainment Network will be back Wednesday night from Roots Bamboo straight from Negril! For the latest information about joining the live webcast and chat in the Negril Chat Room check the Negril Message Board on how to join the NEN! To make it to the Negril Message Board click on the Main Menu above or below and then look for the Negril Message Board link!
At 11:39am - a sunny morning... The temperature is 84° F, 29° C.
Click here for Translation








Other area to visit in Jamaica:

To meet the banner advertisers requirements, we need to post this link to their privacy policy section. Give it a click if you have any qualms about it mon!
© Copyright 2000. Beingee's. All Rights Reserved.