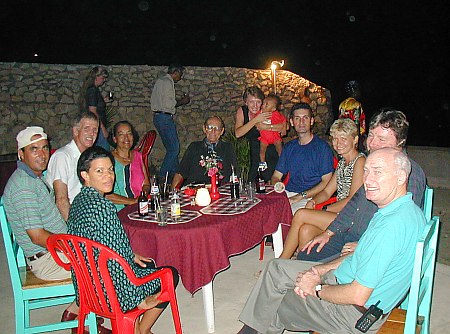 An International Good Time!
September 9th, 2000
It was quite a global affair at the Happy Banana II on Saturday night! People from all around the world joined Eddie and Sharon for their Barbecue Party featuring some of the finest food anywhere! In the picture above there are (left to right around the table) Maureen (Jamaica), Abdul (Pakistan), Eddie (England), Norma (Jamaica/US), Timmy (England), Sharon holding Baby Slice named Aspen (Canada), Dan & Maria (Chec Republic), Paul (France) and Charles (England)! Happy Banana II is available for catering or parties and is located right on the sea next to Heart Beat! To contact Sharon to arrange details - email her at happybanana2@hotmail.com!
Daily Music News: The Negril Entertainment Network was on late Saturday night from Compulseion with another international crowd in the Negril Chat Room! We ran on battery power (lost a circuit breaker) and had a wonderful time chatting with everyone in Canada, the USA, Jamaica, Germany and Bavaria! Thanks for making it a fun evening! The next schedule NEN event wil be Wednesday night from Roots Bamboo straight from Negril! For the latest information about joining the live webcast and chat in the Negril Chat Room check the Negril Message Board on how to join the NEN! To make it to the Negril Message Board click on the Main Menu above or below and then look for the Negril Message Board link!
At 3:15pm - a warm afternoon... The temperature is 87° F, 31° C.
Click here for Translation








Other area to visit in Jamaica:

To meet the banner advertisers requirements, we need to post this link to their privacy policy section. Give it a click if you have any qualms about it mon!
© Copyright 2000. Beingee's. All Rights Reserved.