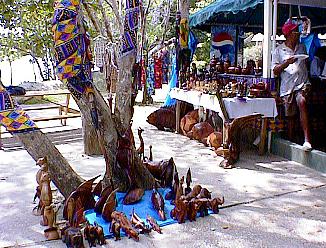 Local Art
June 12th, 1999
Last week on the 6th of June the Negril Chamber of Commerce held its annual International Brunch at the Long Bay Beach Park. In addition to the fabulous food sponsors, local artists were there featuring their wares. Hand made Caribbean artwork was all around the grounds adding to the festive atmosphere. On your next visit to Negril, don't miss the chance to see some of the home grown artwork for which Jamaicans are famous. Daily Music News: A wikked thunderstorm came through Negril on Friday and Saturday nights, taking out modems, fax machines and TV sets all over town. Some phonelines (including ours) were taken out - so we are sorry for the delay in the Negril Today pages as well as the forced cancellation of the Negril Entertainment webcast Sunday Afternoon at Eddie's Tigress II of the IRIE FM Bob Clarke Oldies Program. But no worries mon, the NEN should be returning on Tuesday from Mariner's Inn for their Sunset Show - keep looking to the Negril Message Board on Tuesday afternoon/early evening for more information on how to join the NEN's Chat and Live Webcast!
At 8:44am - a cow off in the distance... The temperature is 80° F, 27° C.
Click here for Translation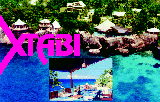 This page is sponsored by Xtabi Resort on the cliffs in Negril. If you like this website, be sure your next visit includes a stop at the famous Xtabi Resort and Restaurant! Let them know you saw them here! If you want to be a sponsor, bemail us. Thanks!
Other area to visit in Jamaica:

© Copyright 1999. Beingee's. All Rights Reserved.