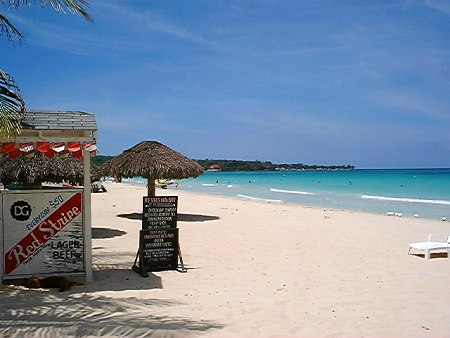 Red Stripes $50Ja Everyday!
April 12th, 2000
Today's Negril Today shows the southern end of the beach, looking towards what is the beginning of the Negril's Wild West End. As you can tell from the picture, things have slowed down considerably after High Season and Spring Break! But that doesn't stop the Irie Vibes Restaurant and Bar from continuing their JA$$50 ice cold Red Stripes special! A cold one on the beach really hcan hit the spot! C'mon down now and enjoy our sand, sun and of course, Red Stripe Beer! Daily Music News: The Negril Entertainment Network had their first real test of the new Windows Media Player software from Roots Bamboo, and although it was far from perfect, the NEN concluded it was worth the effort! The evening started out a little shakey from the afternoon rain the Father Jah provided, but as the night went on the signal improved to the point that even Macintosh users received what they described as "great improvement in video and audio"! The best is yet to come mon - so look for the NEN to be live on Thursday night from DeBuss with Gregory Isaacs! He won't be coming on til late - so you may want to catch a "cat nap" to catch the silky voice of the Cool Ruler! As show time approaches (10:00pm JA time), be sure and check the Negril Message Board on Thursday evening for the latest information on how to download the latest version of the Windows Media Player (both Windows or Mac) and on how to join the NEN for the live webcast and chatting in the Negril Chatroom! To make it to the Negril Message Board click on the Main Menu above or below and then look for the Negril Message Board link!
At 10:24am - a glorious morning on the beach! The temperature is 86° F, 30° C.
Click here for Translation








Other area to visit in Jamaica:

© Copyright 2000. Beingee's. All Rights Reserved.