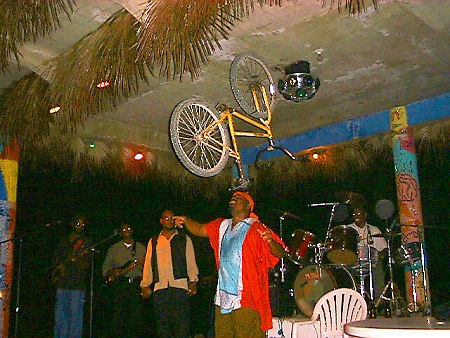 Don't Try This at Home!
April 11th, 2000
You just never know what you will see in Negril! On Tuesday night, although the Negril Entertainment Network had problems with the phoneline, the Balancing Man had no problems at all! His balancing act included many unique items, some very small (a plastic drinking straw for instance) and some very heavy objects like the bicycle shown here! Once again kids, don't try this at home! But you can catch his act each and every Tuesday night at the Mariner's Inn Sunset Show! Daily Music News: As mentioned, static on the phoneline prevented the Negril Entertainment Network from bringing you this week's Sunset Show from Mariner's Inn! No worries mon, the NEN's next scheduled live event will be from the Wednesday night Sea Side Bash from Roots Bamboo! That is if the weather permits - there is some very much needed rain in the forecast, and strange as it may seem, we are really looking forward to the rain! Things need to "green up" mon! To find out about the show from Roots, check the Negril Message Board on Wednesday evening for the latest information on how to download the latest version of the Windows Media Player and on joining the NEN at the live webcasts and Negril Chatroom! To make it to the Negril Message Board click on the Main Menu above or below and then look for the Negril Message Board link!
At 10:10pm - a fine night in Negril! The temperature is 76° F, 25° C.
Click here for Translation








Other area to visit in Jamaica:

© Copyright 2000. Beingee's. All Rights Reserved.