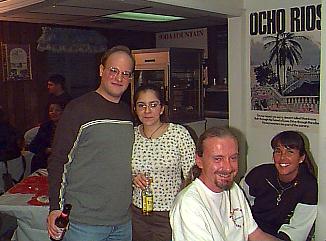 A Taste of Jamaica
February 12th, 1999
On Friday night, the Negril Entertainment Network was on the road. Your Cyber Host Rob (second right) headed north to Columbus, Ohio, USA to take a stop at a Jamaican owned restaurant in Columbus called A Taste of Jamaica. The party was started with jerk chicken wings provided by owner Robbie (born outside Montego Bay) and the crowd gathered with Ohio David, Curtis (in the far back), Miss Jan, Barbara, Bengie, Al and Gina (standing - middle) and Laura aka Jam4lyf (far right) and many others. Along with the self named Negril Misfits at the Negril Yacht Club in Negril, a joint broadcast was attempted for the first time on the NEN. Being in the USA, the bandwidth for the broadcast from A Taste of Jamaica was much higher than the Jamaican based broadcasting ability so most the sights and sounds came from the gathering in Ohio. But the NEN proved that such broadcasts are possible so look for more in the future! Daily Music News: The Negril Entertainment Network is working on a special broadcast from Chelsie's in Columbus, Ohio with Gregory Isaacs and the Ark Band on Tuesday the 16th. For the latest, keep checking the Negril Message Board for details!
At 6:50pm - the evening of fun starts... The temperature is 80° F, 26° C.
Click here for Translation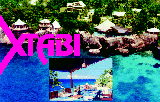 This page is sponsored by Xtabi Resort on the cliffs in Negril. If you like this website, be sure your next visit includes a stop at the famous Xtabi Resort and Restaurant! Let them know you saw them here! If you want to be a sponsor, bemail us. Thanks!
Other area to visit in Jamaica:

© Copyright 1999. Beingee's. All Rights Reserved.