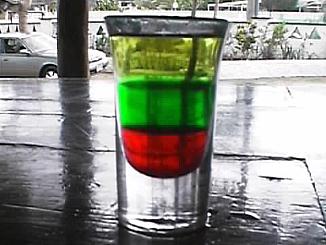 A Pre-lit Flaming Marley
February 11th, 1999
Yesterday we featured the quintessential bartender Neville at the Yacht Club making one of Jamaica's world famous island drinks called a Flaming Marley. This close up of the red, green and gold drink is shown just prior to being laced with a touch of Overproof and lighted. In order to correctly drink it, and avoid a nasty lip burn, you drink it from the bottom up using a straw. As pointed out yesterday, it is quite an experience mon! Daily Music News: The Negril Entertainment Network's broadcast schedule is gearing up for Spring Break, and for the next few days broadcasts will be handled the self titled and appropriately named "Negril Misfits"live from the Negril Yacht Club! In addition to these broadcasts, we are working on a special broadcast from off the island with Gregory Isaacs and the Ark Band on Tuesday the 16th. Keep on checking the Negril Message Board for details! Irie mon!
At 6:00pm - the sun has set... The temperature is 80° F, 26° C.
Click here for Translation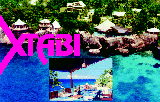 This page is sponsored by Xtabi Resort on the cliffs in Negril. If you like this website, be sure your next visit includes a stop at the famous Xtabi Resort and Restaurant! Let them know you saw them here! If you want to be a sponsor, bemail us. Thanks!
Other area to visit in Jamaica:

© Copyright 1999. Beingee's. All Rights Reserved.