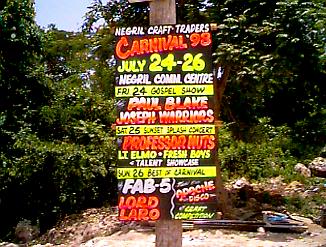 Negril Carnival '98 News
July 11th, 1998
As pointed out on July 9th's page, a vast amount of information can be gleaned from the artful signs along the roadways. On July 24th through the 26th, the Negril Craft Traders will be having Carnival '98 at the Negril Community Centre! It's going to be another great line up - the sign says it all! As a matter of fact, these signs are usually the way that we find out what is going on - and then we post it on the Shows & Events listing in our Entertainment section off our Main Menu. Look for the NEN Crew live again from the Negril Yacht Club for a live Sunday Sunset of the Week. We will start broadcasting and chatting around 6:00pm JA time. Details on how to join us will be posted on the Negril Message Board about 5:00pm Sunday! Back Ah Yawd is taking a break, soon come mon.
At 10:26am - a another picture perfect day! The temperature is 85° F, 28° C.
Click here for Translation








This page is sponsored by Charela Inn on the beautiful beach of Negril. If you like this website, be sure your next visit includes a stop at the fabulous Charela Inn and Le Vendome Restaurant! Let them know you saw them here! If you want to be a sponsor, bemail us. Thanks!
Other area to visit in Jamaica:

© Copyright 1998. Beingee's. All Rights Reserved.