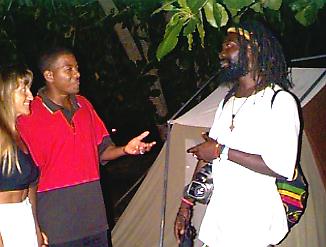 (setting: Delroy and Rasta Julie continue their talk with the Videomon at the Roots Bamboo Campground on the Beach)
Delroy: Ah who an yuh did ah partner?
Videomon: Ah mi ah Clive but him not penitrate di game all di while...
Delroy: One ah dah nite when yuh ah goh up dah yuh hail me...
Videomon: Yeah mon, fah mi woulda like fi hold dem man dah again!
Delroy: Noh worry yuhself wi doe bun two juice affa dem. One ah dis fine nite yah...(continued tomorrow)
******************* Written and Directed by Garth Beckford *****************
The daily Back Ah Yawd page is sponsored by Drumville Cove on the mystical cliffs of beautiful Negril Jamaica. If you watch and enjoy Back Ah Yawd, make your next stay in Negril be at Drumville Cove! Support those that support us mon! Be sure to say hi to Delroy while you are there! If you want to be a sponsor, bemail us.
© Copyright 1998. Beingee's. All Rights Reserved.