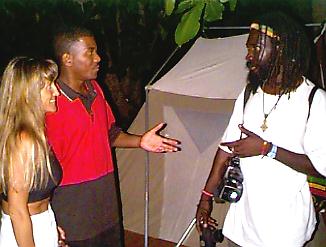 (setting: Delroy and Rasta Julie continue their talk with the Videomon at the Roots Bamboo Campground on the Beach)
Videomon: Soh how mi noh hear yeah chat bout di World Cup?
Delroy: Mi ah wait til it finish before mi sah nothin...
Videomon: Dis ting ha di world tense right now!
Delroy: Mi know dat man nuff dreams and hope as dem play fi it!
Videomon: Wi ha fi do di some hope and dream pon di Reggae Boyz next time!
******************* Written and Directed by Garth Beckford *****************
The daily Back Ah Yawd page is sponsored by Drumville Cove on the mystical cliffs of beautiful Negril Jamaica. If you watch and enjoy Back Ah Yawd, make your next stay in Negril be at Drumville Cove! Support those that support us mon! Be sure to say hi to Delroy while you are there! If you want to be a sponsor, bemail us.
© Copyright 1998. Beingee's. All Rights Reserved.