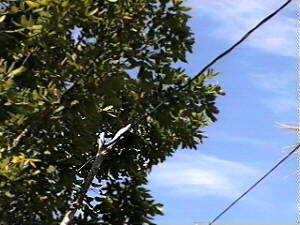 Wired by Nature

11th, May 1996

It's not always a matter of the past simply meeting the future in Negril. Sometimes it's the past being put to futuristic uses. Notice the wire connecting us to the world? It's being supported by an old tree branch! A tree was utilized as a natural pole. Yah mon - nature rules!

Vendors' Corner is open for business, click here for more. Back Ah Yawd will return tomorrow, but we do have over fifty past installments. What are you waiting for?
At 6:21 am, a cloudfree early morning sky. The temperature is a comfortable 78° F., 24° C.