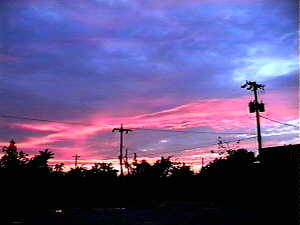 World Wires

10th, May 1996

The past does meet the future in Negril. An age old sight, a gorgeous Caribbean sunset over Lynch Top Lane, clearly shows the poles that help to bring you our daily web site, live and direct out of Negril. Thank you for watching.

Back Ah Yawd is still on vacation, but you can always check out our previous installments! And, if you still haven't seen our first Internet Special, then maybe you should check it out.

At 7:25 am, cloud peppering the early morning sky. The temperature today is 80° F., 25.5° C.