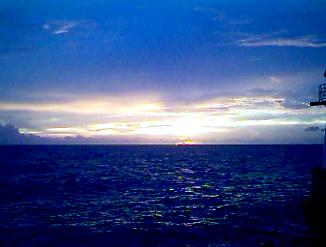 A Blue Sunset of the Week
April 11th, 1999
One of the trademarks of Negril is its glorious sunsets. Nearly each evening, you can stand in awe at one of Mother Nature's most beautiful gift. This week's sunset of the week was sent in my Martin from Colorado, USA. If you would like to submit any pictures for use on Negril Today, just JPG them and send them to the "Be-Mail" address above or below. Irie! News: Just in case you haven't tried it yet, Beingee's has a new site search engine! You can search for any words listed on all our daily Negril Today pages (all our pages in fact - over 3 years worth) as well as do searches for hotel, restaurant and bar information! Give it a click here or find it in our Reference section off our Main Menu. Daily Music News: the cgi chat rooms that the NEN has been testing will not be able handle the both the chat room and the Real Video simultaniously. The NEN gave it their best shot, trying over 30 chat room scripts, but none fit the bill. So a Java based chat is where we are heading. We need to extend an apology to the people on WebTV, until WebTV upgrades to Java their will be very little we can do about it. Sorry mon! Look for the official Negril Chat Room to be started on Tuesday and then the full Negril Entertainment Network schedule will be starting shortly there after! Take care mon!
At 6:45am - the early morning sun rises... The temperature is 75° F, 23° C.
Click here for Translation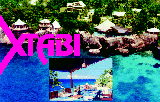 This page is sponsored by Xtabi Resort on the cliffs in Negril. If you like this website, be sure your next visit includes a stop at the famous Xtabi Resort and Restaurant! Let them know you saw them here! If you want to be a sponsor, bemail us. Thanks!
Other area to visit in Jamaica:

© Copyright 1999. Beingee's. All Rights Reserved.