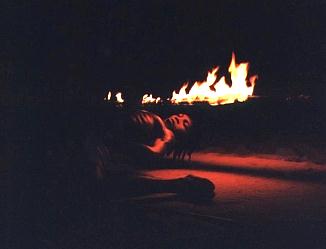 Fire Limbo
December 10th, 1998
Come on and party with us! Yah mon! Enjoying yourself is what Negril is all about! And there are many ways to do it! You can walk the soft sands of our seven mile beach or stroll the rugged cliffs on the West End, catch a reggae show or even a watch the fire limbo dancers, as shown here at the world famous Red Snapper. Red Snapper is located near the center of Negril beach, between Alfred's Ocean Palace and Roots Bamboo. Today's picture was sent in by our friend Sel-Vin, taken on his last visit to our tropical paradise. Thank again Sel-Vin! Daily music news: The rain yesterday has been posing some problems for the scheduled Negril Entertainment Network broadcasts of DeBuss's new Negril radio station - WEST104 from the Negril Cyber Cafe at Eddie's Tigress II and the live reggae from the Negril Yacht Club. But the wet phonelines are drying out so the NEN should be back on schedule soon. Look at the Negril Message Board for the latest on how to join the NEN party - listen in and chat with us - that is, as long as the phoneline cooperate!
At 10:04am - high clouds, blue skys. The temperature is 80° F, 26° C.
Click here for Translation







This page is sponsored by Catcha Falling Star on the majestic cliffs of beautiful Negril Jamaica. If you like this website, be sure to book your next visit with Catcha Falling Star - just click on the link to take a tour of the property! And be sure to let them know you saw them on Beingee's! If you want to be a sponsor, bemail us. Thanks!
Other area to visit in Jamaica:

© Copyright 1998. Beingee's. All Rights Reserved.