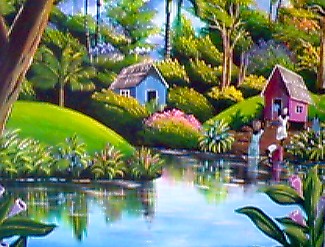 Artwork in Negril
December 9th, 1998
As you walk around Negril on our beach or the West End, there is art! Incredible art. Great artwork can be found everywhere! Today's picture is one of the wall paintings by the front office at Tigress 1 - Papa Lawrence's hotel on Tigress Court. King Pinto painted this beautiful Jamaican scene freehand - a real talented painter. If you would like to contact King Pinto, you can reach him at 876-957-9478 - let him know you saw his creative artwork on Beingee's Internet Negril. We will be bringing you more of Pinto's work coming up later this month - as a matter of fact he's busy working on the Yacht Club today. You just never know what amazing sight you will see in Negril! Daily music news: This morning's broadcast on the Negril Entertainment Network's of DeBuss's new Negril radio station - WEST104 from the Negril Cyber Cafe at Eddie's Tigress II was broken up by the bad phonelines - sorry mon! But look for more live reggae tonight from the Negril Yacht Club starting around 8:00pm. Be sure to check the Negril Message Board for details on how to listen and chat with the Negril Entertaiment Network! Hope to have you join us then!
At 2:08pm - a nice rainy afternoon in Negril. The temperature is 81° F, 27° C.
Click here for Translation







This page is sponsored by Catcha Falling Star on the majestic cliffs of beautiful Negril Jamaica. If you like this website, be sure to book your next visit with Catcha Falling Star - just click on the link to take a tour of the property! And be sure to let them know you saw them on Beingee's! If you want to be a sponsor, bemail us. Thanks!
Other area to visit in Jamaica:

© Copyright 1998. Beingee's. All Rights Reserved.