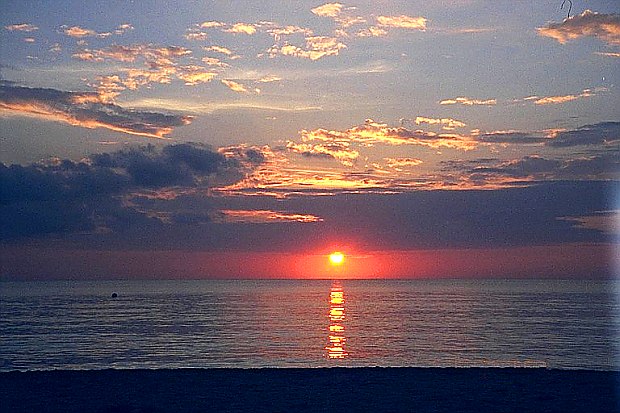 A Reason To Visit
June 7th-15th, 2000
For many, if not most of the visitors to Negril, the setting sun is one of the reasons that keep them coming back! Very few places on this Earth can match the array of colors that Mother Nature cooks up in the early evening sky. Whether you choose to watch it from the cliffs or beach (as shown here), a Negril sunset can be a magical moment. This Sunset of the Week (actually two weeks since I have been trying to find time for a short vacation) was sent in by Canemon and Beingee's would like to thank him for sending us another one of Negril's finest moments - captured in picture! Daily Music News: The Negril Entertainment Network will be on break for a while but will be returning later in this month. This break will be a fairly short one, so keep checking the Negril Message Board for the latest information on how to join the NEN for the next live webcast and chat in the Negril Chatroom! To make it to the Negril Message Board click on the Main Menu above or below and then look for the Negril Message Board link!
At 8:18am - a beautiful morning! The temperature is 80° F, 26° C.
Click here for Translation








Other area to visit in Jamaica:

To meet the banner advertisers requirements, we need to post this link to their privacy policy section. Give it a click if you have any qualms about it mon!
© Copyright 2000. Beingee's. All Rights Reserved.