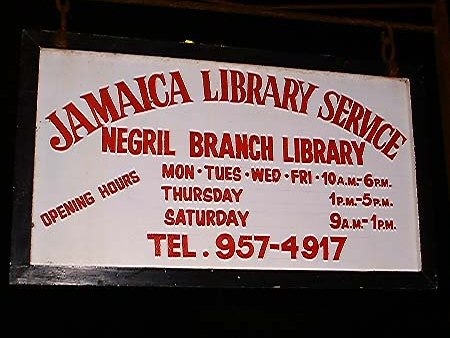 The Negril Library
June 6th, 2000
After visiting Negril, many of our visitors fall in love with the sun, sand, sea and the people, especially the children! And after visiting, many of those same visitors feel the need to help out the community. One of the ways to help is by donating school supplies or books for the Negril Library! Books are a great way to help out the people (and children) of Negril! As you know, books can bring to life experiences of many of the great minds of the ages and are the foundation of any educational system. So, if you feel the urge, by all means pack a couple extra books with you and stop by the Negril Library! Your generousity is greatly appreciated and Beingee's would like to take a moment to thank all those who have contributed in the past! Daily Music News: The Negril Entertainment Network will be on break for a while but will be returning later in this month. This break will be a fairly short one, so keep checking the Negril Message Board for the latest information on how to join the NEN for the next live webcast and chat in the Negril Chatroom! To make it to the Negril Message Board click on the Main Menu above or below and then look for the Negril Message Board link!
At 2:54pm - another warm one! The temperature is 86° F, 30° C.
Click here for Translation








Other area to visit in Jamaica:

To meet the banner advertisers requirements, we need to post this link to their privacy policy section. Give it a click if you have any qualms about it mon!
© Copyright 2000. Beingee's. All Rights Reserved.