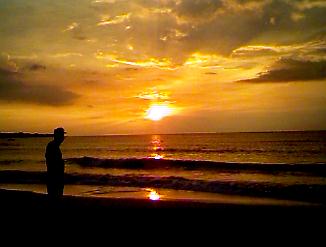 JT's Sunset
November 8th, 1998
Last evening as were enjoying another fabulous Negril sunset over the Caribbean we were joined by JT from Hamilton!, Ohio, USA. JT is on his first visit exploring Negril's wonders and he asked us a favor. He wanted us to help him remember his great vacation by capturing this moment of him looking out at one of nature's most spectacular visions on the beach at Risky Business. Negril - a place for all times. Daily Music News: the Real Video Server is up and running thanks to the diligent work of the folks from New Jersey, USA, but unfortunately the phonelines are still causing problems for the Negril Entertainment Network - so keep checking the Negril Message Board (found off the Main Menu - link is above and below) for details on Sunday night's broadcast from the Negril Yacht Club. Irie!
At 11:52am - cooling ocean breeze on a beautiful blue day. The temperature is 85° F, 30° C.
Click here for Translation







This page is sponsored by Catcha Falling Star on the majestic cliffs of beautiful Negril Jamaica. If you like this website, be sure to book your next visit with Catcha Falling Star - just click on the link to take a tour of the property! And be sure to let them know you saw them on Beingee's! If you want to be a sponsor, bemail us. Thanks!
Other area to visit in Jamaica:

© Copyright 1998. Beingee's. All Rights Reserved.