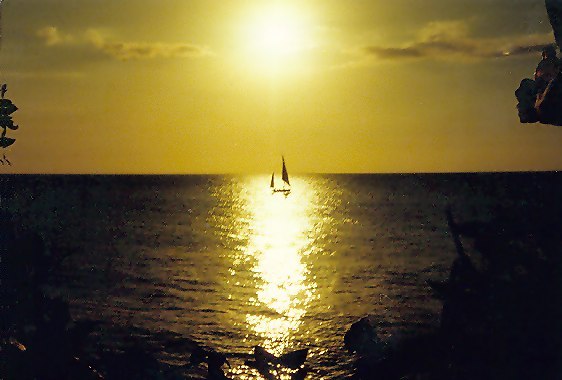 Briguy's Sunset
October 7th-8th, 2000
A retrospective Sunset of the Week! Briguy has been following the Beingee's Negril.Com web site for some time now and wanted to know if we would feature on of his sunsets for the Sunset of the Week. Well, no problem mon! This "Sunset with Sailboat" as Briguy calls it was taken around 1990 at the place that at that time was called Awee-Maway, now known as the Pickled Parrot! As you can see, this has always been one of the best spots on the facce of the earth to catch nature's nightly light show. We would like to thank Briguy for emailing us this picture, and if you would like to see a sunset or any other pictures you may have taken featured on Negril Today, please feel free to send the JPG format of that picture to beingee@hotmail.com. And a big up to everyone who makes this web site what it is - Negril's online community!
Daily Music News: The Negril Entertainment Network will be back this next week with some day webcasts so check back here and the Negril Message Board for the latest information about joining the live webcast and chat in the Negril Chat Room and being a part of the NEN. As always, the information will be posted on Negril Message Board before the next event! To make it to the Negril Message Board click on the Main Menu above or below and then look for the Negril Message Board link! See you soon mon!
At 2:09pm - short rain just finish... The temperature is 82° F, 28° C.
Click here for Translation






Beingee's Internet Negril Privacy Policy

Other area to visit in Jamaica:

© Copyright 2000. Beingee's. All Rights Reserved.