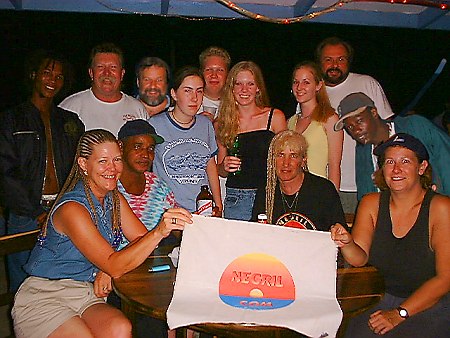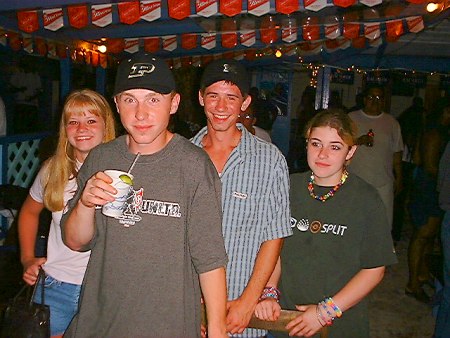 Board Meeting Daze - Curly Style!
August 8th, 2000
Last night was the first night of this session of the Board Meeting Daze in Negril! Curly was the guiding force behind this session - and on Tuesday night it was a great time at Alfred's Ocean Palace! It was a perfect night for Negril Message Boardies from all over to get a chance and meet each other! Normally we don't list how everyone is as it is not always easy to get everyone's names (and spelled correctly) but also some people want to remain anonymous. That cannot be said for the people in the second picture - Sheena, Justin, Tony and Jennifer from Portage, Wisconsin, USA want all their friends to know they are having a exciting time! There were 3 more in their group who didn;t make it for the picture - but there still are two more days left for the Board Meeting Daze!
Daily Music News: The Negril Entertainment Network will return on Wednesday night at Roots Bamboo so we hope to see you all there! Check the Negril Message Board for the latest on how to join the NEN for the next live webcast and chat in the Negril Chatroom! To make it to the Negril Message Board click on the Main Menu above or below and then look for the Negril Message Board link!
At 1:57pm - a windy afternoon... The temperature is 86° F, 30° C.
Click here for Translation








Other area to visit in Jamaica:

To meet the banner advertisers requirements, we need to post this link to their privacy policy section. Give it a click if you have any qualms about it mon!
© Copyright 2000. Beingee's. All Rights Reserved.