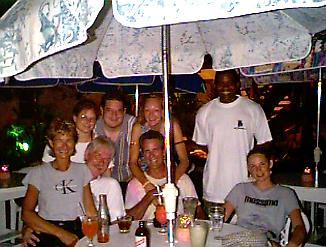 2negril's Crew
June 8th, 1998
The man known as 2negril (August P.) finally arrived in Negril after talking with us on the Negril Message Board for months! This picture shows Maura sitting on August's lap, Dean and Lori behind them, Preachermon and Miss Regina hugging in the middle, the cyberjock Delroy and August's daughter, Kaila. It turned out to be a very special Saturday night at the Negril Yacht Club because Lori accepted Dean's proposal of marriage during our NEN broadcast! What an evening! We wish them all the best! Back Ah Yawd is back today, click on Back Ah Yawd above or below to continue last week's story!
At 7:41pm - the start of a fun evening. The temperature is 84° F, 28° C.
Click here for Translation






© Copyright 1998. Beingee's. All Rights Reserved.