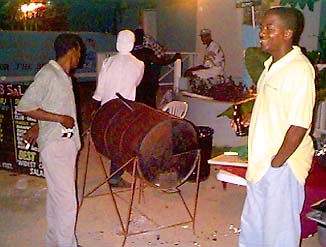 (setting: Delroy and Garth at Travellers Beach Resort)
Delroy: Jah know soh dem bun di oil ah soh dem red up dem face!
Garth: Ah long time dem man can beat di rum hard core...
Delroy: Mi out fi cook soh food inna di day yah frah morning mi noh bust di gass yet...
Garth: Mi doe get ah coco bread outa road den goh ah Lynch Top...
Delroy: Yuh ah come ah di football match lata? (continued tomorrow)
******************* Written and Directed by Garth Beckford *****************
The daily Back Ah Yawd page is sponsored by Drumville Cove on the mystical cliffs of beautiful Negril Jamaica. If you watch and enjoy Back Ah Yawd, make your next stay in Negril be at Drumville Cove! Support those that support us mon! Be sure to say hi to Delroy while you are there! If you want to be a sponsor, bemail us.
© Copyright 1998. Beingee's. All Rights Reserved.