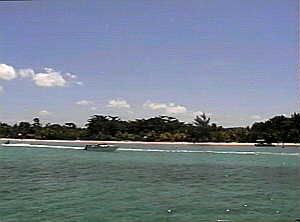 Beach View

7th, August 1996

A great way to see the whole of Negril is on one of the many cruises available. Snorkel, island picnic and sunset cruises are scheduled daily. Today's picture is courtesy of the fun folks at the Red Stripe Cruises, located next to the Boat Bar!

NEW! If you want a place to stay that can let you check e-mail in Negril, click! Also, with Sumfest getting started, the rumors are flying wild for October's Dance Again Festival.

At 6:56 am, clouds already burning off. The current temperature is 78° F., 26° C.