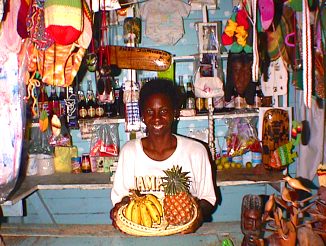 Vee's Favorite Shop Discount
December 6th, 1997
One of the pleasures of your relaxing stay in Negril is taking a stroll on the West End Road and stopping in any of the small shops dotting the roadside along the way. If you happen to be walking by Mariner's Inn, be sure to look for Vee's Favorite Shop (next to Central Park). Vee has everything you may want, but her specialty is fresh juices and fruits mon - the juices are fresh squeezed while you wait! Vee loves to meet new friends so she is offering you this incentive to visit with her - you will receive a 10% discount on your next purchase at Vee's Favorite Shop! Just print out this page and bring it with you mon! That's all it takes! Back Ah Yawd continues at the Fi Wi Vendor's Plaza, but Delroy has wandered over to the fruit stand. You can check them out by clicking on Back Ah Yawd mon! Irie.
At 8:39 am, flat seas at sunrise... The temperature is 75° F, 24° C.






© Copyright 1997. Beingee's. All Rights Reserved.