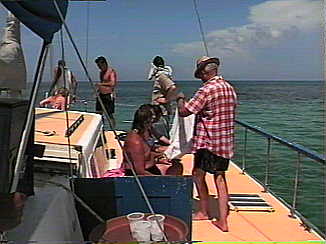 At Sea

5th, October 1996

Today's picture goes out to Howard in Ohio. He's heard from friends about being on a sailboat in the Caribbean. He probably even dreams about it. Well, until he comes down or we can get a internet live cam aboard one of the ships, this is as close as we can take you. Irie.
We have a busy week with our Dance Again Festival at Halloween. Click here for the latest. And... if you have been dreaming about owning some tropical property, click here mon...

At 10:55 am, the ice filled cups are awaiting fine Jamaican rum... temperature is 86° F., 29° C.