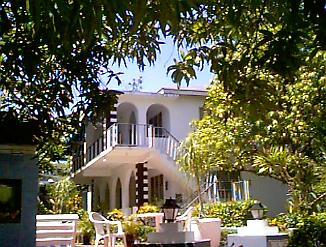 Tigress II News
June 5th, 1998
Today's picture was taken on the grounds of Eddie's Tigress II. It is located near the top of Tigress Lane and we have a few items for you to note. Number 1, Eddie's Tigress II has some GREAT specials available for the summer! All Air conditioned rooms are US$35 per night (with a pay for 6 nights - get 1 free) and ceiling fan rooms are US$25 per night (with a pay for 5 nights - get 2 free)! Second, if you have tried to email them in the lsat few days - please try again - they have a new email address - tigressii@hotmail.com - give them a look over in the Where To Stay section. Note: We will be live on the NEN broadcasting on Saturday night from 7pm til 10pm JA time from the Negril Yacht Club - join in - the details will be posted on the message board on Saturday. Back Ah Yawd is on break today - look for it to return Monday!
At 1:30am - another inspirational sunset! The temperature is 85° F, 29° C.
Click here for Translation






© Copyright 1998. Beingee's. All Rights Reserved.