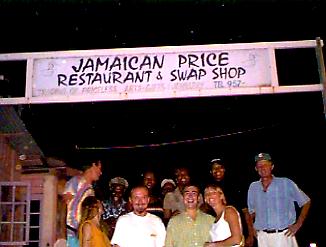 Cliff Pub Crawl
June 4th, 1998
This is the place to look for us on Thursday for our weekly Thirsty Thursday Pub Crawl at Jamaican Price Restaurant! Jamaican Price is easily found in between MXIII and Mi Yard - just as the cliffs start in tropical Negril Jamaica. It was another fun group as craptrap and the gang from the Negril Yacht Club joined in the fun in person, and we had some more people catch the live broadcast and chat that we had on the NEN (Negril Entertainment Network). Look for the NEN to broadcast late on Friday night from 10pm til 2am JA time at the Thatch Hut Bar - join in - the details will be posted on the message board late on Friday. Back Ah Yawd continues today with Garth and Delroy - give a click on Back Ah Yawd above or below to check the latest installment!
At 1:30am - heading of to Mi Yard! The temperature is 80° F, 26° C.
Click here for Translation






© Copyright 1998. Beingee's. All Rights Reserved.