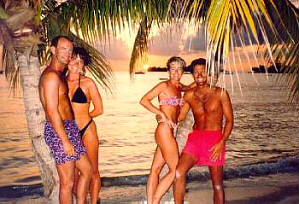 Randy's Rescue!

4th, May 1996

Not exactly sure why we didn't think of this earlier, but we have some as yet unused shots waiting to be added to the Guest Gallery. Procrastination paid off! Randy sent these shot to us about a week ago. He said it was taken in '93 at Sandals. Thanks Randy! (We should have our camera back Monday - hopefully!)
Once again, we've finished our new Main Menu. Check out our Traveler To Traveler (great for first-timers), Transportation (first of many), the Vendors' Corner and How To Help.

Time is 6:03 am. A bright full moon setting as the sun rises. Cool this morning, 76° F., 23° C.