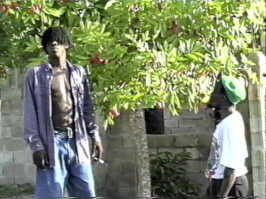 Dave: Bwoy mi soon ha nuff ackee fi nyham.

Barra: Look pon dat dah one over dah soh it loaded to.

Dave: Saltfish expensive doe.

Barra: Wi no ha fi ha saltfish fi nyham wid ackee.

Dave: Mi no wi cya jus nyham it so-soh-soh even raw.

Barra: Mi ha so breadfruit over mi yawd mi a go meck up ah wood fire ah roast them ah nyham dem wid ackee ah butter.

Click for the previous Back Ah Yawd, or click for the next one.