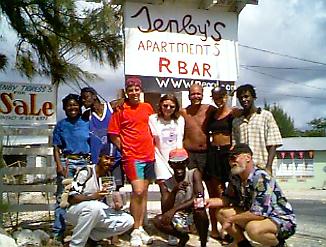 Norway Friends
April 4th, 1998
On Friday afternoon the Pirate and I were sitting around the R Bar when Shorty's Boat, Childrens Bread, docked nearby. The party came ashore and stopped by for a visit. Our new friends from Norway, Simon, Mette, Knut and Cicilia didn't really want to leave when it came time for the crew, Tony, Kelly and Conroy to shove off. It was another great afternoon in Negril Jamaica! Note: we shoud be live Eddie's Tigress II Sunday afternoon with IRIE FM. Join us on the NEN. Be sure to check the message board for full details - and then listen and chat with us on the Negril Entertainment Network. Back Ah Yawd is taking a break for a few days. Soon come mon!
At 3:48pm, a sunny afternoon! The temperature is 90°, 32° C.
Click here for Translation






© Copyright 1998. Beingee's. All Rights Reserved.