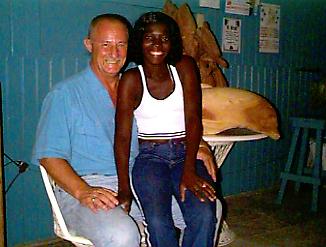 Honeymoon Couple
April 3rd, 1998
During Thursday's Internet Pub Crawl, we were joined by a newlywed couple who couldn't stay around and would miss our crew picture. But we couldn't miss this opportunity to get a picture of them for Negril Today, so this is it! Here is Dave and Kadian, who were married on March 25th. They wanted to say hello to all their friends and sorry you missed the wedding! We want to wish Dave and Kadian all the best for the future! Negril is a place that your dreams can come true. Note: we shoud be live from the Negril Yacht Club on Saturday night on the Negril Entertainment Network. Be sure to check the message board for full details - and then listen and chat with us from the Yacht Club! Back Ah Yawd is on break for a few days. Irie!
At 8:41am, a beautiful morning! The temperature is 80°, 26° C.
Click here for Translation






© Copyright 1998. Beingee's. All Rights Reserved.