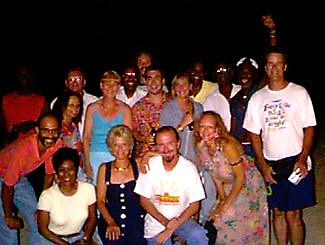 Beach Pub Crawl
June 3rd, 1998
It may be slow season, but we had a great turnout for the Wednesday Pub Crawl at Travellers Beach Resort. It was a beautiful night under the stars, great food and great company. Included in today's picture (in no particular order) are Mike and Coleen, Estelle and Les, The Magic Man and Sharon, Nacy and Mike, Joan and Freddy, Anna and William, Preachermon and Regina, Ralston, Wilbert and yours truly, Rob. We hope we didn't miss anyone - if we did, it was completely unintentional. Look for us LIVE again at the Thirsty Thursday Pub Crawl at Jamaican Price Restaurant! Hope to have you join in - details will be posted on the message board later on Thursday. Back Ah Yawd moves on today to the Wednesday night Pub Crawl - give a click on Back Ah Yawd above or below to find out what is happeneing!
At 11:12pm - what an evening... The temperature is 80° F, 26° C.
Click here for Translation






© Copyright 1998. Beingee's. All Rights Reserved.