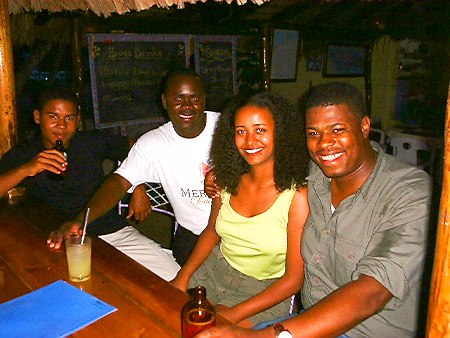 A Small World!
August 2nd, 2000
On Monday at the LTU Pub, located just across the street from the LTU Villas, there occurred an amazing coincidence! While enjoying some of the fabulous food at the Pub, I met up with a honeymoon couple (right) who were from my hometown! They are spending their honeymoon at Couples but heard about LTU from the Internet, Beingee's Internet Negril to be exact! While I won't mention their names (to maintain their lurker status on the Negril Message Board), he is from Jamaica and she is from Ethiopia and they met at The Ohio State University - and the rest is history! They had no idea that I was from Cowtown, I mean Columbus, Ohio, USA, we talked about places and people we have in common, both in Jamaica and Columbus! It is a small world mon! And congratulations to the newlyweds from everyone at Beingee's!
Daily Music News: The Negril Entertainment Network had a busy night in the Negril Chat Room and a great webcast from Roots Bamboo on Wednesday night. Because of Sumfest, the NEN schedule is everchanging this week so keep checking the Shows & Events listing for the most current schedule. And as always check the Negril Message Board for the latest on how to join the NEN for the next live webcast and chat in the Negril Chatroom! To make it to the Negril Message Board click on the Main Menu above or below and then look for the Negril Message Board link!
At 8:06pm - the evening chirping... The temperature is 84° F, 29° C.
Click here for Translation








Other area to visit in Jamaica:

To meet the banner advertisers requirements, we need to post this link to their privacy policy section. Give it a click if you have any qualms about it mon!
© Copyright 2000. Beingee's. All Rights Reserved.