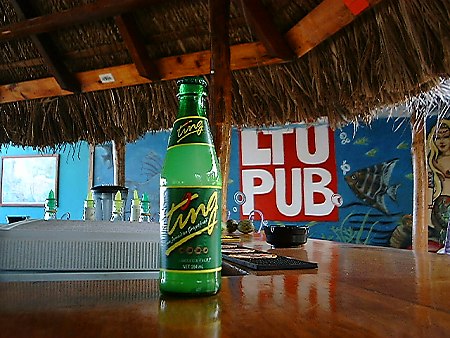 You Ain't Got A Thing If You Ain't Got The Ting!
August 1st, 2000
Yesterday we ran a "Guess where we are" contest page. Although there were many guesses, the winner of this contest is Mark B. from NH, USA for correctly pointing out the picture was taken at the world famous LTU Pub, located just across the street from the LTU Villas. Mark is the winner of a beverage of his choice bought by Beingee's at LTU on his next vacation to Negril! Thanks to all those who entered the contest and Big Up Mark! We will keep the Stripes and Tings cold for you! Speaking of Ting, if you want to experience a great Jamaican taste sensation, Ting is the thing! If your local stores do not carry the Jamaican grapefruit soda, be sure to check out Irie Imports! They can deliver a case right to your door! Look for them in the Beingee's Classified Ads section which can be found off our Main Menu in the Jamaican Marketplace!
Daily Music News: The Negril Entertainment Network will be back Wednesday night at Roots Bamboo starting around 9:30pm - keep checking the Negril Message Board for the latest on how to join the NEN for the next live webcast and chat in the Negril Chatroom! To make it to the Negril Message Board click on the Main Menu above or below and then look for the Negril Message Board link!
At 12:38pm - the sun is high... The temperature is 86° F, 30° C.
Click here for Translation








Other area to visit in Jamaica:

To meet the banner advertisers requirements, we need to post this link to their privacy policy section. Give it a click if you have any qualms about it mon!
© Copyright 2000. Beingee's. All Rights Reserved.