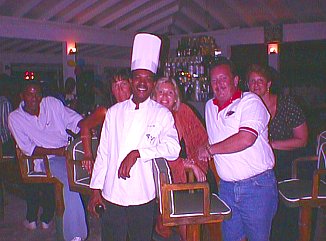 LIVE at Roots!
December 31st, 1997 11:15pm
The concert has started! Delroy, Michele, Everton, Dee, Chuck and Lisa would like to say Happy New Year! The fireworks are flying high and the Red Stripes are flowing at Roots Bamboo and everything is ready for our first LIVE half hour broadcast from Negril Jamaica on the internet - from Roots Bamboo on the beach with the I - Threes and Chaka Demus and Pliers! Join us just before midnight JA time. And here is how to do it! First, download the NetShow Player from Microsoft and the install it. Start your NetShow Player by which can be found in your Internet Explorer program group. Choose File - Open Location and then enter the following:
msbd://207.44.32.17:1175
This will bring up our LIVE audio signal starting at 11:50pm JA time and continuing until about 12:30am from the concert at Roots Bamboo. Please note, we are coming to you live from Jamaica on a single phone line and we can get cut off quite easily. If there is no signal, please wait or try back in few minutes - no problem! If you need to download the latest NetShow Player, click here. Irie and happy New Year from Negril!
Back Ah Yawd is still on break, but will return tomorrow!
At 11:15 pm, the music has started. The temperature is 75° F, 23° C.
Click here for Translation






© Copyright 1997. Beingee's. All Rights Reserved.