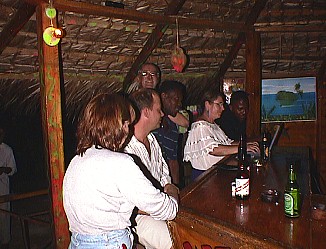 Pub Crawl LIVE
December 4th, 1997
This picture is from LIVE from Negril from the Thatch Hut mon! Kyle (Pirate's kid) asked for a shot from the bar - and since I owe Kyle many favors - well, here's the picture mon! Estelle is clicking away on the keyboard and Louie Culture is on the sound system - so all is well mon! Keep checking back later for another update and keep checking the Negril Message Board for the current Chat Room address...
Back Ah Yawd has moved on to the Fi Wi Vendor's Plaza where Delroy runs into Wayne at Mr. Peck's Music Shop. Music is their topic for discussion this day! Click on Back Ah Yawd for the latest mon! Also, be sure to stop by the Fi Wi Vendor's Plaza (near the Post Office). The new Beingee's office is located next to Negril Chamber of Commerce - if we aren't in, drop in the Chamber's office and let us know you stopped by. And don't forget to say hi to Wayne and all our other friends in the Plaza shops! Irie mon!
At 9:35 pm, Geoff and Monica wishes you were here mon!






© Copyright 1997. Beingee's. All Rights Reserved.