Main Menu
Negril Today

Past Pages

Lycos Search

to Beingee's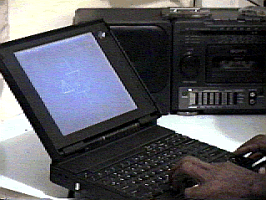 We Are Ready for Business

Beingee's is ready for '96, be prepared! The focus is Negril! Check us out for the latest on the 'net. Garth's busy working, as you can see. Rob's out looking for stories of interest for the 'net. Beingee's will update hourly, if you want it! Just Be-Mail us.

Beingee's offers full computer services, from initial consultation and design to training and follow-up support. All from sunny Negril. To paraphrase a fellow Columbusite, former classmate and Heavyweight Boxing Champion of the World - Buster Douglas and The Greatest - Ali, we're going to shock the world! Listening Cowtown?! For past pages, click here.