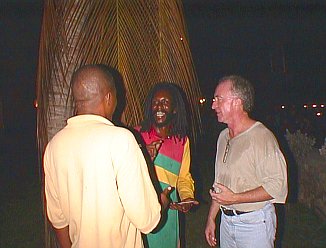 (setting: before the Yellowman and Gregory Isaacs show at Sam Sara, with Delroy, Bobby Dread and Bob Read)
Delroy: Wah ah gwan Bobby Dread, yu ah Bob Marley ah mos' twin!
Bobby Dread: Ha! Ha! Bwoy, ah soh di people sey...
Delroy: Yuh sing like him, yu walk like him! Ha! Ha!
Bob Read: That's true mon!
Delroy: Soh yu ah di white Bob Marley?
Bob Read: That's what my fans call me... (continued tomorrow)
******************** Written and Directed by Delroy Mosley ********************