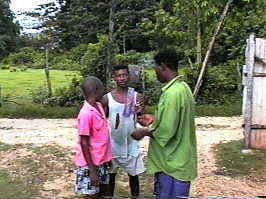 (Continued from previous installment)
Bryan: Wah big reggae fest start soon mon.

Ian: Yeah man, Sunsplash and Sumfest dis dah right around di corner.

Denton: Mi ha fi di dah talk bout rydem ha fi roll..

Ian: Mi ha some friend ah come specially fi dat.

Bryan: Yuh save up nothing good fi dem?

Ian: How yuh mean yuh noh know how ey got inna di night when vibe star flow. Mi ha ah wicked time planned.
Click for the previous Back Ah Yawd, or click for the next one.