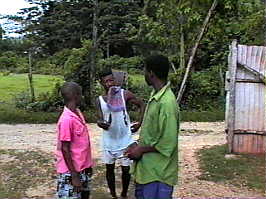 Ian: Ah wah di I dem chat bout inna di evning hours yah.

Denton: Is all about wock an money.

Bryan: Denton ah me brethren soh mi an him chat bout life more time.

Ian: True mon! Irie youth more time check him pon di work place when mi inna di west.

Bryan: Ah di same ting wi ah chat bout how things tight inna di low season.

Denton: Ah next month ah Sunsplash and Sumfest.

Click for the previous Back Ah Yawd, or click for the next one.