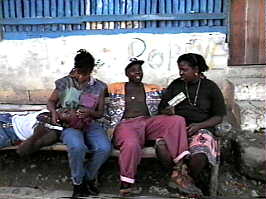 Dice: As yuh si mi hug up Peaches yuh draw near.

Wendy: Gwane bout yuh business if yuh noh want mi yuh.

Peaches: Mine yuh chat too much Mr.Dice.

Dice: Noh soh. Yuh si how yuh jump fi pick up fi Wendy because di two ah uno ah woman.

Wendy: Meck him gwane ah some time him some time.

Dice: No worry daughter yuh safe everyting cris yuh noh say wi ah boniefie.

Click for the previous Back Ah Yawd, or click for the next one.