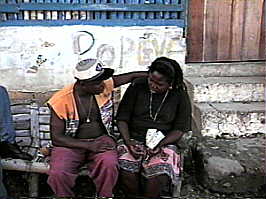 Dice: Gal yuh sexy mi jus like di way yuh feel warm inna mi hand.

Peaches: Yuh let mi go yuh noh ha nothing fi chat yuh.

Dice: Yuh mus know wah yuh mean by dat.

Peaches: Mi mean yuh already ah meck life fi yuh self yuh bread and butter two side an fi mi noh slice yet.

Dice: Noh say soh Peaches all ah wi inna di same boat.

Click for the previous Back Ah Yawd, or click for the next one.