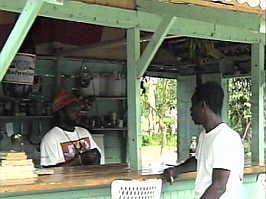 Scorcha: Mi jus love how yuh keep di place clean.

Peachan: Ah wah yuh ah say man dis is My Father's Place yuh noh cleanliness is Godliness

Scorcha: Wha yuh mean hard work bring success?

Peachan: Yuh gwane yuh full ah pay rhyme yuh shud da go D.J.

Scorcha: No soh mi too old fi dat mi ha fi lef ey to di young bwoys.

Peachan: Anyway Scorcha mi only ha dis yah restaurant soh ah jus work mi deal wi yah soh.
Click for the previous Back Ah Yawd, or click for the next one.