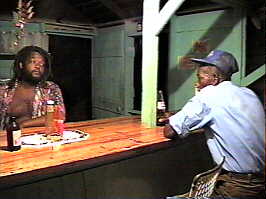 Peachan: Yuh did know say tourist ride bike and drive car go all over Jamaica jus like mi and yuh.

Massa: Ah true mon, everyway mi go mi si dem ah teck picture.

Peachan: Di people teck care ah dem all bout di place.

Massa: Yuh si ah noh only inna Negril tourist get good treatment. Anyway dem go dem get di same warm welcome, even Kingston mi teck tour.

Peachan: Man meck mi tell yuh something three quarters ah di worker inna Negril come from di country side. Ah di same country side people teck care ah di tourists.

Click for the previous Back Ah Yawd, or click for the next one.