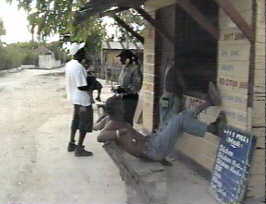 Erol: Wha happen Deann, yuh look soh beautiful inna di day yah respect to di max.

Deann: Bwoy yuh torment sah wha yuh want now yuh noh si say ah shop mi come fi buy food fi mi baby.

David: Yuh noh si say di bwoy love yuh but it look like him shy fi tell yuh.

Deann: No suh. Erol know say mi well occupied already and mi noh steal love on di side.

David: Soh ah big respect to hussie den baby.

Click for the previous Back Ah Yawd, or click for the next one.